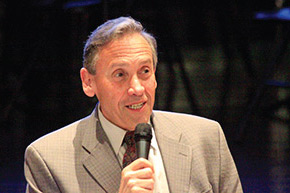 In his presentations for business and corporate organizations and law firms, Dr. Brooks describes realistic, practical strategies for reinforcing empathy, intrinsic motivation, resilience, and "stress hardiness" as key ingredients for developing a positive work environment characterized by positive emotions and a sense of purpose and meaning.
Titles of Presentations  
Effective Leadership: Developing Emotional Intelligence and Resilience in Ourselves and Others
Strategies to Create a Positive Emotional Culture and Work Environment
Strategies to Lead a More Resilient, Meaningful Life
There is some overlap in these presentations, especially in terms of an overview of the key concepts involved in a strength-based approach.  The presentations can be offered in a 90-minute, two-hour, half-day, or full-day format.  Dr. Brooks always works closely with the sponsoring group to ensure the content of his presentations meets their needs and interests.